Portrait Project
Portrait Project: Pre-Final
Opacity Project- Prismacolor
Progression Drawing
Contour Hands
Dum Dum Drawing
Chalk Pastels- Jolly Rancher
Working With Chalk Pastels- Egg Project
Still Life- Compositional Sketches
Still Life- Final Project
White Ribbon
Working With Value- Shading Shapes
Final Contour Project- Room Drawing
Practice Room Contour Drawing
First REAL Contour Drawing- Backpack
First Hand Drawing- Blog Update Cram Time!
Drawing Final- Fabric

1) I think I definitely could've used more values, but I don't think my use of values was way too little. You can see the change in value in the folds, but it's still not up to the standard that I'd like it to be.
2) Doing the 9 step value chart helped with being able to get used to the pencils I was using so that I could accurately represent them in my work.
3) Because I used a pencil and a white prismacolor for my final, blending was fairly easy as prismacolors are very buttery-like pencils in my opinion. I was able to add more pressure in areas that needed shadow, and I just used the white prismacolor to add highlight to the piece.
4) Fabric has a lot of texture. It has folds and creases that you have to use value perfectly to imitate when recreating the image.
5) I would definitely add more value. I feel most insecure about the fact that I was "afraid of the dark" as Mr. Sands likes to say.



My personal favorite is the one I did on blue colored paper- but the final one is a work in progress!
Powered by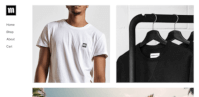 Create your own unique website with customizable templates.